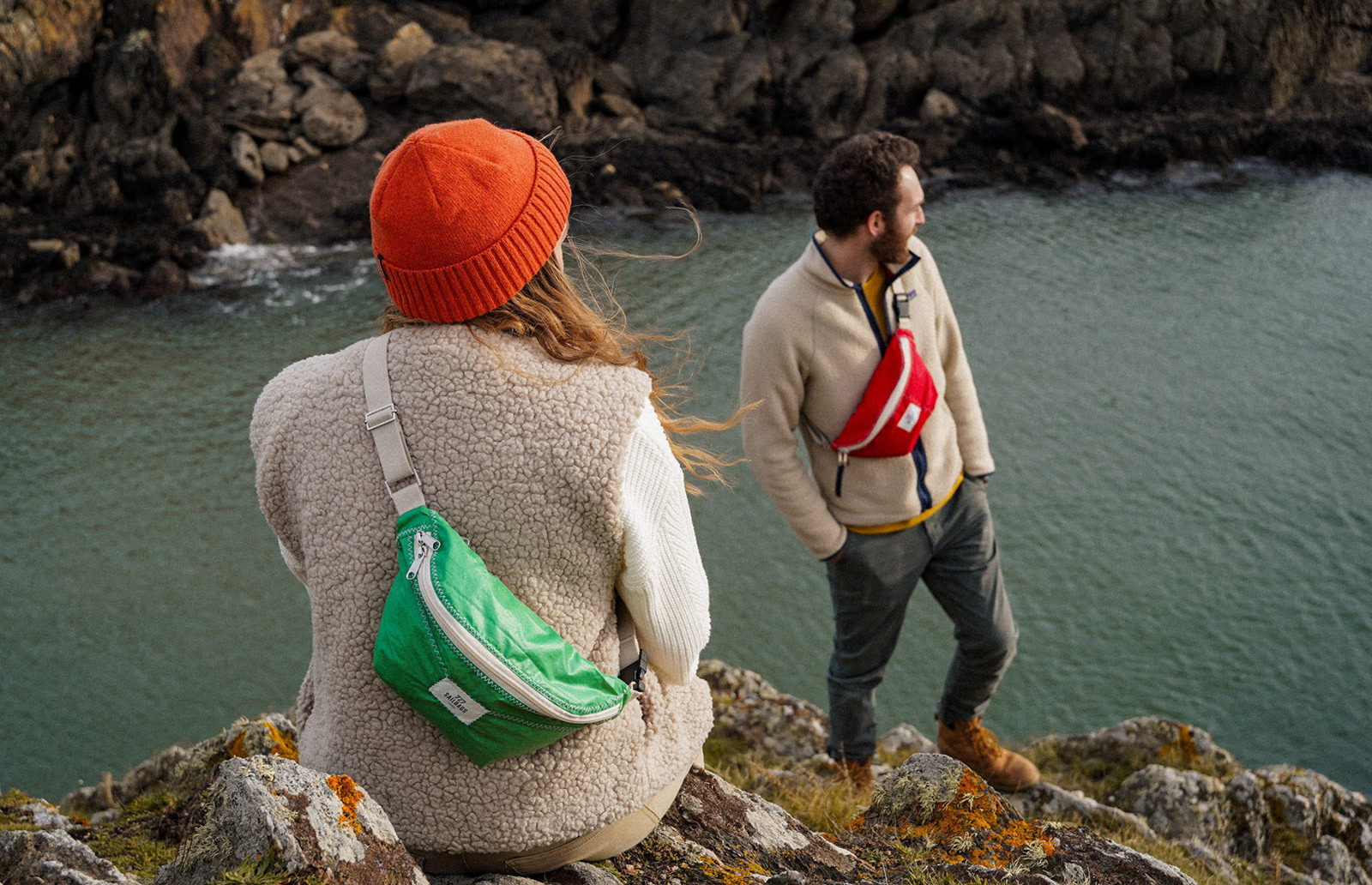 Waist Bag Ibiza
Discover our collection of fanny packs made from recycled spinnaker. Choose a trendy, eco-responsible waist bag made from recycled sail.
Features of the fanny pack
The fanny pack is a trendy, practical accessory that offers a host of features. First of all, it has an adjustable cotton belt that allows it to be worn in a variety of ways, whether around the waist, across the body or even as a shoulder bag. These different ways of carrying it make it an ideal companion for all occasions, whether you're going hiking, doing a bit of sport or just strolling around town. In terms of storage, the fanny pack has a large interior compartment, so you can organise your belongings efficiently. You can store everything you need: your wallet, mobile phone, keys, headphones and even a small bottle of water. What's more, our fanny pack has a zipped pocket on the back, ideal for keeping your valuables safe. Another advantage of the fanny pack is its lightness and compactness. Unlike a traditional rucksack, it won't take up too much space, so you can move around more easily. Finally, the fanny pack is also very popular for its strength and durability. Made from recycled spinnaker sail, it is designed to withstand your sporting activities. What's more, it's easy to look after - just wipe with a damp cloth to keep it clean and in good condition. In conclusion, the fanny pack is a practical accessory that offers a wide range of functions. Whether you're travelling, playing sport or just using it every day, it will keep your belongings within easy reach while remaining comfortable and stylish.
The essential fashion accessory
Whether you're a woman or a man, our fanny packs are designed to add a touch of style to your outfit. We've thought of every detail to make our fanny packs the ultimate fashion accessory. Available in two colours, black or terracotta, our fanny packs suit every style and occasion. The classic black offers a chic and elegant look, while the terracotta colour adds a touch of warmth and sophistication to your look. Whether you're travelling, hiking or just shopping, our fanny packs have been designed for practicality and comfort. With a large interior storage compartment, you'll be able to easily organise your belongings and keep your essentials close to hand. As well as being functional, our fanny packs are also made from high-quality materials to ensure their durability. You'll be able to use them for years without worrying about them getting damaged. So, what's your favourite colour? Go for timeless black or indulge in the warmth of terracotta. Either way, you can be sure that our fanny packs will be the perfect fashion accessory to complete your look and make you stand out in style.