Toiletry bag Windy

Belem Collection
recycled sail
$90.00
(tax incl.)
$90.00

(tax excl.)
Check out our new elegant and simple dopp kit made with 100% recycled sails.
Soft and resistant, it is equipped with a zip closure, in addition; its large size will allow you to carry all your essentials when travelling. Slide it nicely in a backpack or travel bag from the same collection.
Don't need a dopp kit? This pouch can also be used as a pencil or paint brush case when you are at work or at home. It is also the perfect container for your precious objects or to simply put away cables.
Sailing Collected and Recycled in France
Highly resistant zip closure
Cotton hanging strap
Inside: 1 main compartment, 1 side patch pocket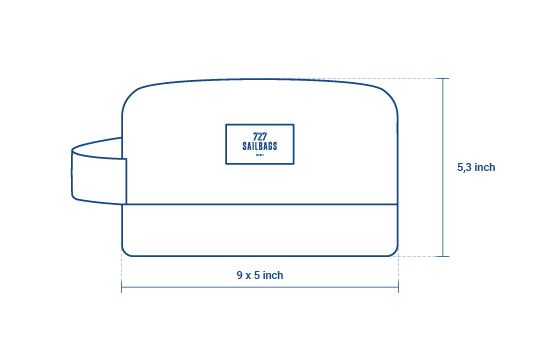 Made from vintage Dacron sails reminiscent of classic yachts, the Belem collection by 727 Sailbags is inspired by the original sails of the legendary three-master. These sails are chosen for their strength, and feature the zig zag stitching of the original Belem sails.
In our workshop in Lorient, Brittany, we collect sails every day. Through these sails, singular stories of navigations. Each sail has its own story, and you can learn about it on the authentication sheet that you can find on most of our products. By giving a second life to the these sails, we commit for the preservation of the environment. To learn more about the different sails we upcycle, please read the segment about the life cycle of a sail.
Shipping (UPS) :
Usa : 2-8 business days.
Canada : 5-10 business days
Free pick-up in store, Maryland MD | 1 to 3 business days
Return: Products can be returned within 14 days
Customers who bought this product also bought: