Deckchair

Blue Anchor
recycled sail
$420.00
(tax incl.)
$420.00

(tax excl.)
This deckchair features white recycled sailcloth, blue fabric and a blue anchor sewn with our signature zig zag stitch.
Sturdy and comfortable, great for both indoor and outdoor use, this deckchair is adjustable in 3 positions, with stainless steel notches. The sailcloth is removable, if needed.
The structure with armrests is made of solid oak.
Base

Acrylic

Category

Deckchair

Color

White
blue

[US] étiquettes

New
Sail collected and recycled in France
Beach wood structure, treated for external use
Two rods help to take out and clean the sailcloth
Three adjustable positions
Locker in stainless steel
Two armrests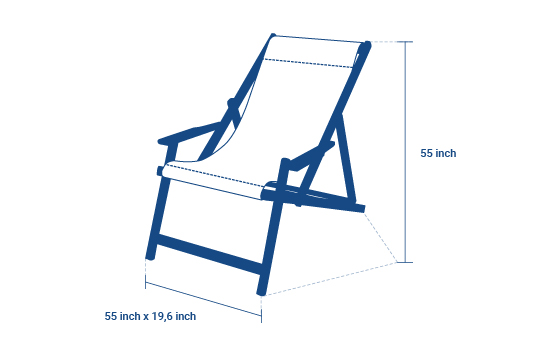 Shipping (UPS) :
Usa : 2-8 business days.
Canada : 5-10 business days
Free pick-up in store, Maryland MD | 1 to 3 business days
Return: Products can be returned within 14 days