Maxi Bean Bag 55x55 in

Nattier Blue and Grey
recycled sail
$560.00
(tax incl.)
$560.00

(tax excl.)
Maxi bean bag made from recycled sailcloth.
Made from 100% recycled sail, this large and comfortable seat features nattier blue fabric and a "727" grey number applied on it with our signature zig zag stitch.
It has a removable cover and is great for both outdoor and indoor use. The filling is made of polystyrene beads.
Base

Acrylic

Category

Bean Bag

Color

White
blue

Matière

Canvas

[US] étiquettes

New
Sail collected and recycled in France
Removable cover
Zip to empty/refill the bean bag
High density polyester balls (2.5 - 3.5 mm diameter)
Adjusting eyelets (strap/adjusting rope not supplied)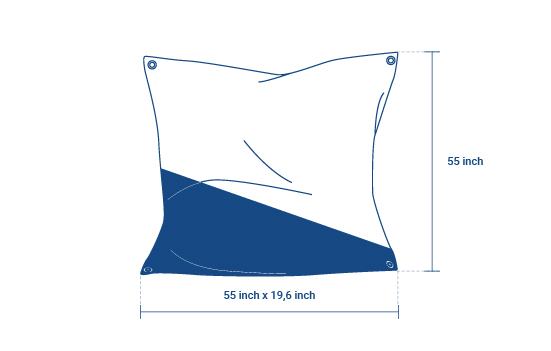 Shipping (UPS) :
Usa : 2-8 business days.
Canada : 5-10 business days
Free pick-up in store, Maryland MD | 1 to 3 business days
Return: Products can be returned within 14 days
Customers who bought this product also bought: