Clutch

Belem Collection
recycled sail
$80.00
(tax incl.)
$80.00

(tax excl.)
Made from old sails reminiscent of classic yachts, the Belem x 727 Sailbags collaboration undeniably represents French elegance and authenticity.
Leather and sail: two exceptional materials for an elegant and useful creation.
To preserve the legacy of the legendary Belem yacht, 727 Sailbags donates a portion of the profits from this collection to the Belem Foundation.
This elegant clutch bag is made of 100% recycled sail, and features soft leather details and robust zig zag stitching, symbol of the legendary three-masted ship.
A small and practical clutch to carry around your phone, wallet and keys or to slip into a bag.
Sailcloth

Main Sail

Base

Leather base

Limited serie

Collaboration

Category

Bags

Collection

Belem

Color

White
Recycled and collected in France
Zip fastener
100% cotton lining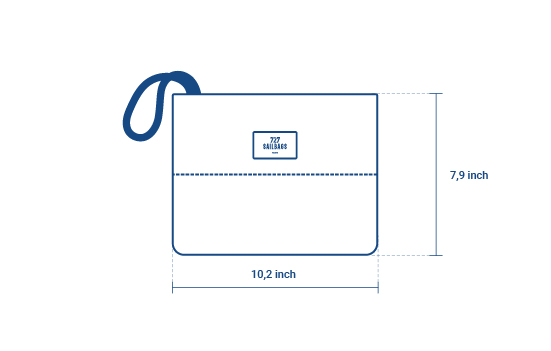 Made from vintage Dacron sails reminiscent of classic yachts, the Belem collection by 727 Sailbags is inspired by the original sails of the legendary three-master. These sails are chosen for their strength, and feature the zig zag stitching of the original Belem sails.
In our workshop in Lorient, Brittany, we collect sails every day. Through these sails, singular stories of navigations. Each sail has its own story, and you can learn about it on the authentication sheet that you can find on most of our products. By giving a second life to the these sails, we commit for the preservation of the environment. To learn more about the different sails we upcycle, please read the segment about the life cycle of a sail.
Shipping (UPS) :
Usa : 2-8 business days.
Canada : 5-10 business days
Free pick-up in store, Maryland MD | 1 to 3 business days
Return: Products can be returned within 14 days